Health and Safety


Hotel Trundle
Greetings and thank you for checking out our Health & Safety page!
We have safely navigated through the 2020 months of the COVID-19 pandemic and we are excited to enter into 2021 with renewed hope and a shining positive outlook. That said, we remain eagle-eye focused on the safety and health of our guests, team, and community.

Our enhanced cleaning initiatives and protocols remain in place so that you, our treasured guests, continue to feel confident when staying with us at Hotel Trundle. In addition, we are diligently monitoring the ongoing recommendations made by the CDC, SCDHEC, and the AHLA (American Hotel & Lodging Association) and use them as a foundation when structuring new protocols and procedures.

All of us at Hotel Trundle are looking forward to a bright future for post COVID-19 travel and gathering! We can't wait to get back to "normal" and bring our beloved Hotel Trundle guest experience back to her original glory. Stay well out there.

Your friends,
Rita, Marcus, and the entire Hotel Trundle team.
Guest room
Our enhanced cleaning initiatives include procedures to thoroughly clean all surfaces with hospital-grade disinfectants. We have provided in-room sanitizing amenities for your use.
Public spaces
Our dedicated team is cleaning high-traffic areas and high-touch surfaces with increased frequency. They are using the CDC and AHLA recommended cleaning products.

Social distancing
Partitions have been added to our check-in areas as an extra layer of safety for our guests and team members. We also have signage to serve as a reminder to maintain social distancing.
Keep clean stations
We have placed 'Keep Clean Stations' at high-touch areas that guests come into frequent contact with. These stations have sanitizing amenities for guests to use at their comfort level.
Face Mask
In accordance with Ordinance No. 2020-059 facial coverings or masks are required to be worn in public spaces while in Columbia to stop the spread of COVID-19. If you need a mask, we've got you! We have masks available for our guests who find themselves needing one in Hotel Trundle.
Washing Hands
Hand washing is one of the best ways to protect yourself and others from getting sick. Wet, lather, and scrub hands for at least 20 seconds. Need a timer? Sing the "ABC's" or "Happy Birthday" song beginning to end twice. Then rinse and dry hands on a clean towel.
Contactless Guest Registration
You now have the option for contactless check in registration prior to your arrival. This limits the amount of time spent at our front desk during check in so you can get to the good stuff with your keys and welcome beverage.

Remote Communication
We have implemented a new concierge technology that allows us to contact each other through text messaging beginning at 10 am the day before your arrival! So let us know if you need anything at all – from flowers and rose' to dinner and entertainment recommendations – it's our pleasure to assist you! If you have requests prior to that give us a ring at 803.722.5000.
FREQUENTLY ASKED questions
Q: What is the cancellation/rebooking policy?
A: Any reservations made after July 15, 2020, will be subject to our normal cancellation policy. Guests are able to reschedule* or cancel reservations without charge as long as the change and/or cancellation is made by 6 p.m. the day before the scheduled arrival date and will not be refunded any pre-paid deposits. *Some exclusions may apply.
Please note that changes to reservations will be subject to availability and any rate differences. If you need to change or cancel reservations, please call Hotel Trundle Guest Services at 803.722.5000, and we will assist with any requests you may have. We are looking forward to welcoming you back with the hospitality you have come to know and expect at Hotel Trundle.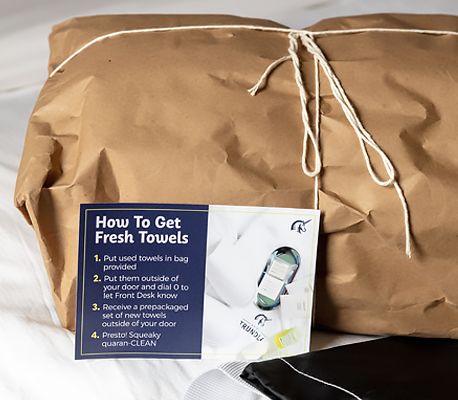 Q: What health and safety modifications have we made at the hotel since opening?
A: In each guest's room, we will be providing sanitizing amenities as well as other disposable protective accessories at the front desk and are available upon request if you want them when you enter the hotel. There are also 'Keep Clean Stations' strategically placed around the hotel for guests to use at their own convenience.
Fun Fact: Our hand sanitizer is sourced through local distilleries!
Q: What are our ongoing health and safety measures?
A: The Hotel Trundle is taking the following measures to ensure the safety of our guests and staff:
We are not servicing stay-over rooms but will have fresh linens and towels at the front desk if needed.
We have restructured breakfast to be "grab-and-go" bags with pre-packaged items. Coffee is still available! Looking for something a little more hearty? There are lots of great restaurant options in the Main Street District that have re-opened with your safety in mind. We have paused valet services and are offering self-parking only. A reduced parking rate is available. The new parking rate is $14/day.
We have paused turndown services to limit unnecessary traffic entering and engaging with your room.
We have paused our Sip & Nibble Reception.
All utensils, glassware, and mugs have been eliminated and replaced with only prepackaged or disposable items.
Welcome beverages are going to be prepackaged only, (i.e. canned beer or bottled wine.)
Guest Services and Housekeeping have been instructed not to touch guests' luggage unless it is absolutely necessary for assistance.
We are cleaning rooms with a 24-hour delay as an extra measure to eliminate the COVID-19 virus being active on different surfaces.
We have installed nanoSeptic Continuously Self Cleaning Surface wraps and sleeves on public space and guest room door handles in addition to other high touch point areas like elevator buttons and luggage carts. Other sanitizing equipment used on property include UV Light Sanitizing Light Box, UV Light Sanitizing Wand, and a Germbuster ULV Fogger & Electrostatic Fogger and Mister.
Our gym is currently closed but check in with us as we are working to open it up by appointment soon!
Q: Are you providing in-stay housekeeping?
A: Prior to each stay, our staff is performing a thorough pre-arrival inspection of each room to ensure your safety and wellbeing. We are not providing in-room housekeeping at this time in an effort to minimize the amount of foot traffic within each room and contact with personal belongings. If you are in need of additional towels, linens, or other in-room amenities, please call our front desk and we will be happy to assist.
Q: What executive orders are in place as a result of COVID-19?
A: The following executive orders/city ordinances are in place:
City of Columbia Ordinance No. 2020-059: Facial coverings or masks to be worn in public places within the city to slow the spread of COVID-19. In accordance with the ordinance, we ask that you please wear your facial covering or mask while you are in our hotel. Exceptions include individuals under 10 years of age or if wearing a face covering causes or aggravates a health condition.